---
Exercises
Merging two lists
Lexical trees
Lexical trees (or tries) are used for the representation of dictionaries.

# type lex_node = Letter of char * bool * lex_tree 
 and  lex_tree = lex_node  list;;
# type word = string;;



The boolean value in lex_node marks the end of a word when it equals true. In such a structure, the sequence of words ``fa, false, far, fare, fried, frieze'' is stored in the following way: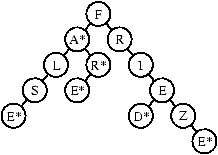 An asterisk (*) marks the end of a word.
Graph traversal
We define a type 'a graph representing directed graphs by adjacency lists containing for each vertex the list of its successors:

# type 'a graph = ( 'a * 'a  list) list ;;



---